Gutter & Downspout Installation in Moore, Edmond, Norman, Shawnee
The right gutter and downspout system provides protection against roof damage, soil erosion, and basement flooding.
Solving all your rain gutter installation & protection needs
Patriot Gutters offers a broad range of professional gutter services, including gutter and downspout installation, repair and replacement, as well as cleaning and maintenance services. We also install gutter guard systems to help protect your gutters and your home. We use only the highest quality gutter materials available to ensure lasting performance and protection.
Whether you want to upgrade your gutter system or you're installing gutters on a new home, it's important to work with a company that's experienced. Let our gutter experts help! Call or click below to request a free gutter estimate in Oklahoma City, Norman, Moore, Edmond, Shawnee or nearby.
Install one of our gutter systems
Gutters come in several sizes and shapes called profiles. The most common type of gutter used today is the open gutter, as continuous roll-formed seamless gutters. Residential gutters come in two sizes-- 5" and 6" --and are made of either aluminum, steel, vinyl, or copper in a standard "K" style.
The typical 5 inch K-style gutter comes with 2 x 3 inch downspouts. A larger residential gutter system would consist of 6 inch K-style gutter using a 3 x 4 inch downspout.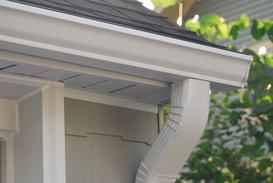 Seamless Aluminum
Aluminum gutters are the most commonly used gutters today. They come in different thicknesses and gauges such as .027 and lighter. Aluminum gutters come in many colors, can be painted, and do not rust.
These are seamless, which will mean less leaks and it will also be safer to have a professional seamless gutter installer. All aluminum gutters come in varying thicknesses or gauges: .032, .027, .025 and .019
---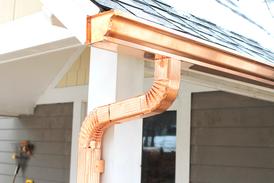 Copper
For customers that want the best. Copper gutters are durable, long lasting, and are commonly reserved for classic restorations. Copper comes in various weights, 16 oz., 18 oz., and higher. Professional installers are recommended as joints and seams must be soldered. Copper will patina with age and will vary in color from light green to a brownish green depending upon climate.
---
Half Round
Half round gutters are found on many turn of the century era homes. They come in all metals including copper and also in plastic. Half round gutters can also be seamless, made on the job site. Common sizes are 5 inch and 6 inch.
---
Our gutter services in Central Oklahoma
Gutter installation
Gutter replacement
Gutter repair
Aluminum, copper, and steel gutters
Gutter guards
Gutter cleaning
Invest in gutter cleaning or gutter guards
You don't realize how important your gutters and downspouts are until they clog or stop working properly, causing damaging to your home's siding, roof, windows, or foundation. Keeping your gutters in good shape is an important step in protecting the exterior of your home and avoiding expensive repairs.
Regular gutter cleaning can help prolong the life of your gutters and help prevent damage and leaks. Leaves, twigs and other debris can build up in your gutters and clog your downspouts, preventing water from draining properly. We offer professional gutter cleaning services and maintenance to help keep your gutters in top shape year round.
Tired of cleaning your gutters year after year? When your gutters get clogged with debris, water can back up and spill over the edge of your gutters next to your foundation, or get underneath your shingles and cause leaks. We offer proven gutter guards and gutter protection products that will keep leaves and debris out of your gutters while still allowing water and melting snow to drain properly.
Get started with a free estimate for gutters
If you're interested in gutter replacement or gutter installation for your home, the experts at Patriot Gutters are here to help. Our experienced professionals will help you determine the right gutter services and materials for your needs and provide you with a quality repair or installation.
Call us today at 1-405-347-8309 or contact us online to get started on your gutter project. We offer free estimates on all our work in Edmond, Shawnee, Moore, Norman, Oklahoma City, Mustang, Choctaw, Newcastle, Yukon, Bethany, El Reno and throughout the surrounding areas.